The OKTOPUS® ERGO-Pick is a very economic, light weight and extra quick pneumatically operated vacuum lifter. It can be mounted to a single rail crane system, it does not need a chain hoist and its advantages are controlled load handling in a pneumatic lifting cylinder and immediate vacuum generation (central ejector) upon glass contact.
The series ERGO-Pick impresses with:
the application in lightweight crane systems or column/wall-mounted slewing cranes
the built-in pneumatic lifting cylinder and by that economization of costly and high-maintenance chain hoists
horizontal rotation by 360° in the carriage adapter
availability of manual and/or pneumatic positioning facilities (rotating, tilting the load)
a variety of suction frame versions for optimum adjustments to payloads and pane shapes
telescopic extension arms for tool-free adjustment of the suction bridge shape to the loads to be manipulated
the option of pneumatically operated devices to equip each suction pad with its own vacuum generation (ejectors) with non-return valve and vacuum gauge
the expansive safety facilities (depending on the equipment)

compressed-air or vacuum gauge
acoustical signaling devices to monitor energy supply or vacuum function
central or decentral arranged non-return valves

minimum requirements for maintenance and preventive service
the following options: blow-off function, automatic energy saving function, spring-mounted suction pads, decentralized vacuum generation, manually or pneumatically height-adjustable control panel
max. glass dimensions:
depending on the shape of the suction frame and glass thickness, up to 2,600 x 3,210 mm recommended
Working Load Limit:
150 / 250 / 350 / 500 kg
Vacuum frame:
X-shaped or rectangular, with telescopic extensions
Vacuum generation:
ejectors with non-return valves, with / without energy saving function
Power supply:
compressed air 6-9 bar, quick couplings 1/4",1/2", 3/8"
Color:
RAL 9006, white aluminium vacuum frame RAL 2011, deep orange
Movements
Lifting/Lowering:
pneumatic stepless by telescopic lifting cylinder
Rotating device:
in the carriage adapter, manually 360°
The OKTOPUS® ERGO-Pick is the perfect device for optimizing production processes with low effort in flat glass manufacturing and processing companies or window production and for reducing costs significantly.
OKTOPUS® ERGO-Pick versions
OKTOPUS® ERGO-Pick 250 D R 600 S TA CAU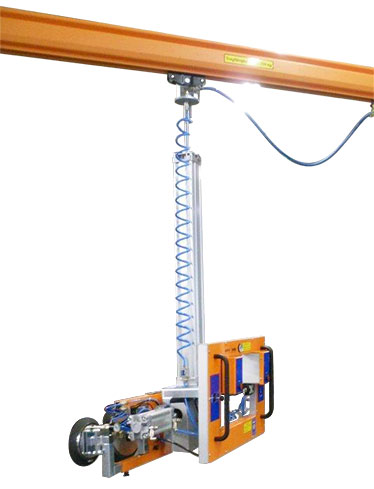 Working Load Limit:
250 kg
Weight:
approx. 800 kg
Suction pads:
2 pcs. Ø 200 mm (telescopic, pluggable),
2 pcs. Ø 290mm (telescopic)
Vacuum generation:
central ejector with blow-off function
Power supply:
compressed air: 6-9 bar 3/4"
Color:
lifting column aluminium unpainted
suction frame RAL 2011 deep orange
Movements
Lifting/Lowering:
Pneumatic cylinder, pneumatically, stepless operation by operator
Rotating horizontally:
manually 360°
Stroke:
1200 mm standard, other lengths on request
Movements suction frame:
rotating pneumatically, 0-90°
OKTOPUS® ERGO-Pick 350 DN R 660 S TA CA EZU
Working Load Limit:
350 kg
Weight:
ca. 110 kg
Suction pads:
2 pcs. Ø 290 mm
4 pcs. Ø 200 mm (4 pcs. telescopic, pluggable)
Vacuum generation:
central ejector with blow-off function
Power supply:
compressed air: 6-9 bar 3/4"
Color:
suction frame RAL 2011 deep orange
Movements
Lifting/Lowering:
Pneumatic cylinder, pneumatic, stepless operation by the operator
Rotating horizontally:
manually 360°
Stroke:
1200 mm standard, other lengths on request (stroke dimensioning)
Movements suction frame:
rotating pneumatically, 0-90°
tilting pneumatically, 0-90°