The product family OKTOPUS® ERGO-Lift completes the range of rigidly guided handling devices for loads up to 1,100 kg. ERGO-Lift handling devices are applied in X-Y lightweight crane systems. The use of electric motors allows rotating the suctioned elements endless by 360°.
The series ERGO-Lift impresses with:
Working Load Limits up to 1,100 kg
the pneumatic electric stepless telescopic lifting column that can be rotated by 360° for precise positioning
the use at double bridges of lightweight crane systems or double rail booms of column or wall-mounted slewing cranes
the rigid connection between lifting column and crane way by the double-rail crane trolley
telescopic extension arms for tool-free adjustment of the suction bridge shape to the loads to be manipulated
vacuum generation by either controlled/uncontrolled ejectors or by electrical vacuum pumps (230/400 V)
the arrangement of the operating elements that allow operating the ERGO-Jet and guiding the device with the handles at the same time
the very precisely adjustable positioning movements (depending on the equipment: rotating, tilting, inclination)
minimum requirements for maintenance and preservative service
handling large and heavy glass panes by one operator only
minimization of energy, time and costs
the following options: blow-off function, automatic energy saving function, spring-mounted suction pads, decentralized vacuum generation, pneumatic or electric height-adjustable control panel
Working Load Limit:
150 / 250 / 350 / 500 / 1,100 kg
special solutions up to 6500 kg and for curved glass panes
Vacuum frame:
X-shaped or rectangular, with telescopic extensions
Vacuum generation:
2 pcs. Ø 200 mm (telescopic, pluggable),
2 pcs. Ø 290mm (telescopic)
Vacuum generation:
ejectors with non-return valve, with/without energy saving function or electrical vacuum pumps
Power supply:
compressed air 6-9 bar
power supply: 400V, 230V
quick couplings 1/4",1/2", 3/8"
Color:
RAL 9006, white aluminium RAL 2011, deep orange
Movements
Lifting/Lowering:
with chain hoist or rope lashing, or with forklift (each provided by the customer)
Rotating horizontally:
in the crane hook, manually 360°
Rotation:
vacuum frame 90° / 360°, electrically
Inclination:
vacuum frame 82° / 84°- 90°, pneumatically / electrically
Tilting:
vacuum frame 0°- 82° / 90°, pneumatically / electrically
Depending on the application it is also possible to use different energy sources (compressed-air, 400 V, 230 V) and combine these for vacuum generation and positioning the loads.
OKTOPUS® ERGO-Lift Versions
OKTOPUS® ERGO-Lift 600 DES 560 S TA EZU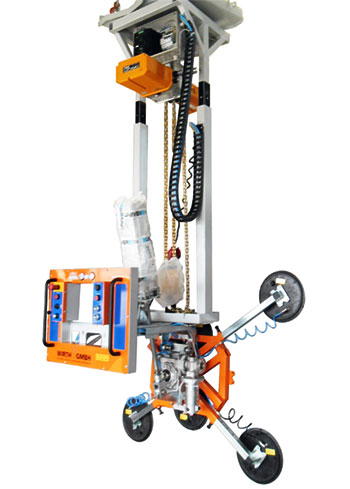 Working Load Limit:
600 kg
Weight:
ca. 330 kg
Suction frame type:
X-frame
Hoist:
chain hoist integrated
Suction pads:
8 pcs. Ø 300 mm
(4 pcs. extendable, pluggable)
Vacuum generation:
central ejector with non-return valve and blow-off function
Power supply:
compressed air 6-9 bar
mains grid 400 V
Color:
RAL 9006/2011
Application:
loading/unloading vert./horiz. glass processing machines
Movements
Lifting/Lowering:
rigidly guided tubular construction with chain hoist inside, stepless operation by the operator
Rotating horizontally:
in the trolley frame, manually 360°
Stroke:
1200 mm standard, other lengths on request (stroke dimensioning)
Rotating:
suction frame 360° endless, electrically
Tilting:
suction frame 0-90°, pneumatically
OKTOPUS® ERGO-Lift 1100 DS X 730 S TA CA EZU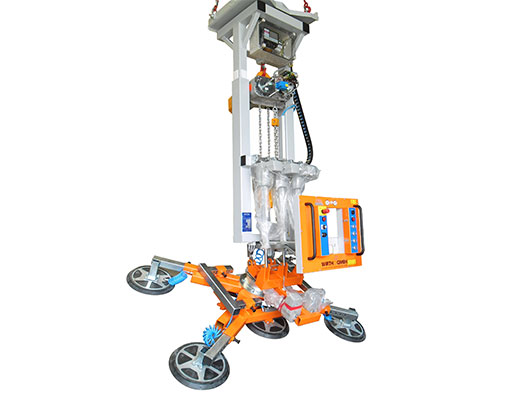 Working Load Limit:
1100 kg
Weight:
ca. 330 kg
Suction frame:
including installation supports for insulated glass
Suction pads:
6 pcs. Ø 400 mm
(4 pcs. extendable, pluggable)
Vacuum generation:
central ejector with non-return valve and blow-off function
Power supply:
compressed air 6-9 bar
mains grid 400 V
Color:
compressed air 6-9 bar
mains grid 400 V
Color:
lifting tube frame RAL 9006, white aluminium,
suction frame RAL 2011, deep orange
Movements
Lifting/Lowering:
rigidly guided tubular construction with chain hoist inside,
stepless operation by the operator
Rotating horizontally:
in the trolley frame, manually 360°
Stroke:
1200 mm standard, other lengths on request (stroke dimensioning)
Rotating:
suction frame 0-90°, electrically
Tilting:
suction frame 0-90°, hydraulically